Going Green with EEI
Strategies to Support Digital Use & Efficient Printing of the EEI Curriculum
All components of the EEI Curriculum are available for free download in PDF format. This page provides useful strategies for teachers wanting to implement the EEI Curriculum digitally or reduce paper use in their classroom. There are many possibilities for digital implementation of the EEI Curriculum. The following tips reflect just a few of the approaches used by current EEI teachers.
If you have a tip that is not reflected on this page, please email us and let us know!
Classroom Strategies for Using EEI Digitally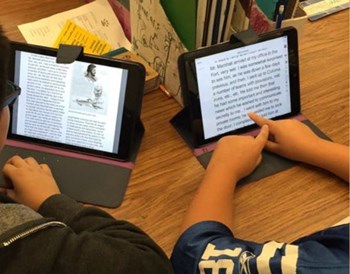 New Annotation Feature Available! You can now highlight, add notes, and underline passages in EEI Teacher's Editions, Student Editions, Student Workbooks and Student Readers. We recommend using Adobe Reader DC, a free PDF editor available on the Adobe website. However, any free PDF editor will allow you to make annotations to these files.
Teachers with Access to Computer & Tablets:
Download EEI unit Teacher's Editions to your computer or tablets for lesson planning. Use a PDF editor, such as Adobe Reader DC, to add highlights, underline passages, or add notes as you review the unit backgrounds, lesson procedures, and assessments.
Have students access EEI unit Student Editions and Student Readers on their computer or tablets for close reading; encourage students to annotate passages as they follow along with the text.
Students can also complete EEI Student Workbook activities and unit assessments on a computer or tablet since the electronic PDFs are form-fillable. Consider creating a dedicated e-mail address or using a classroom management platform, such as Google Classroom, to allow students to submit their workbook assignments electronically.
If your district uses Ed Caliber/Lessoneer, the EEI Curriculum is available for use on that platform. Any school or district that uses a similar, but different platform and is interested in a similar partnership can contact us to learn more.
Teachers with Access to Classroom Projectors
Use a projector to display EEI Student Workbook activities and have students complete their assignments on binder paper, or in journals. If working in groups or as a whole class, have students use white boards or butcher paper.
Project student reading materials (Student Readers, Student Dictionaries, Visual Aids, Maps) in front of the class and have students read aloud as classmates follow along.
Have students self/peer-grade written exercises by projecting Teacher's Edition answer keys.
Printing Strategies to Minimize Paper & Cost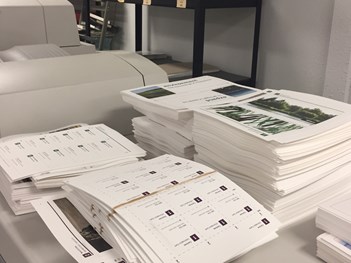 While all of the curriculum can be viewed in a digital format, certain components of the EEI Curriculum were designed to be printed for effective use in the classroom. Recognizing this need, it is our goal to provide teachers with free printed copies of EEI unit teacher and student materials whenever possible. We only ask that teachers attend a free EEI Teacher Training to qualify for this offer.
However, due to the steep rise in demand for environment-based resources, there may be times when free printed EEI units are not readily available. In the event that a unit is out-of-stock, you may consider printing components on your own or by using school resources. The following tips can help you make decisions about what and how to print components to reduce cost and support environmentally preferable implementation of the EEI Curriculum.
Consider using black and white instead of color when appropriate, and minimize the number of copies of student materials when possible. Many EEI Student Workbooks do not contain color images and can be printed in black and white without any loss of quality. Students can share copies of the Student Workbooks, Student Readers and Student Dictionaries. View this chart for additional printing suggestions.
Remember that most materials can be used over and over again, and reusable materials can be rotated among teachers. You can extend the life of your student workbooks, readers, and dictionaries by directing students not to write in them. Instead have them complete their workbook activities on a piece of binder paper. Collect and store your student materials after each lesson. Teacher kit materials such as word wall cards, information cards, National Geographic maps, student maps, and game boards can be laminated or placed in reusable plastic sleeves to increase their durability.
If you are a school administrator or curriculum coach, seek cost estimates from print shops within your district or county Office of Education, and consider consolidating print orders for all teachers in the district who wish to have EEI printed materials. Often times print costs go down with larger quantities.
Local commercial printers can print any of the EEI Curriculum materials for use in classrooms, although wall maps are a special order. The EEI Curriculum can be downloaded to your computer and transferred to a portable media device, such as a portable USB drive, and taken to your local printer. If your printer questions whether you have the rights to reproduce the EEI Curriculum, please show them the title page of your booklets which states "These materials may be reproduced by teachers for educational purposes." If that is insufficient, please contact us for an authorization for commercial printing.
Helping school districts with their needs is often the goal of local community service organizations and businesses. Talk with your established partners

or seek potential new partners

for financial support or a donation of paper, ink cartridges, or free printing opportunities.
Save